It's official: Yahoo's days as an independent company are over.
Verizon has agreed to pay $4.83 billion for Yahoo (YHOO, Tech30), the companies said before markets opened Monday.
The sale completes Yahoo's evolution from influential search pioneer and web portal juggernaut to, in the end, a once-dominant brand that lost its way.
Parties as diverse as Warren Buffett and The Daily Mail were interested in buying Yahoo. But after a sale process that dragged on for months, Verizon (VZ, Tech30), long viewed as the frontrunner, is walking away with Yahoo's more than one billion monthly active users.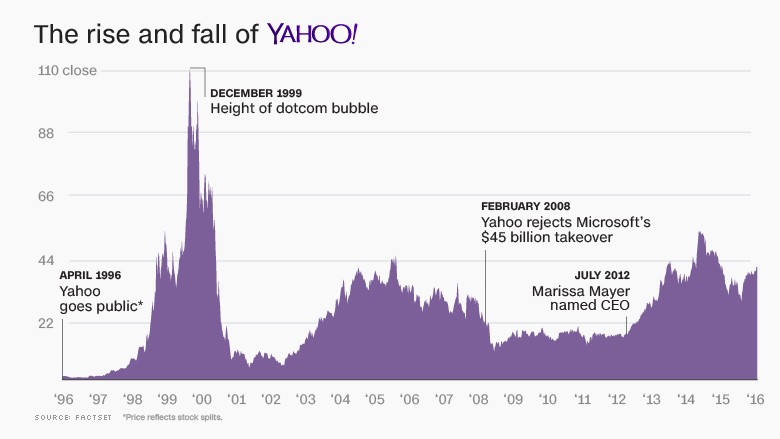 Current Yahoo shareholders will keep the company's lucrative investments in Chinese e-commerce giant Alibaba and Yahoo Japan. They will be spun into a separate, yet-to-be-named, publicly traded company. The deal also excludes some patents and Yahoo's cash.
The Verizon deal must be approved by regulators and is expected to be finalized in the first quarter of 2017.
The sale puts an end to Yahoo's 21-year history as an independent company. Yahoo will now be integrated with Verizon-owned AOL under Marni Walden, an executive vice president at the telecom company.
It also ends a turnaround effort by Marissa Mayer, who joined Yahoo four years ago and promised to revitalize the company. Verizon and Yahoo have not commented on who will lead Yahoo once the deal is complete.
It's unclear what Mayer will do after the deal closes. A spokesman for Yahoo said it's "too early to say" whether she will stay on as CEO, accept a new role at Verizon, or step aside. Meanwhile, Mayer says she will stay on to see Yahoo through its transition.
"For me personally, I'm planning to stay," Mayer wrote Monday in a memo to employees posted on Tumblr. "I love Yahoo, and I believe in all of you. It's important to me to see Yahoo into its next chapter."
Full Story Here